Rampur(UP) | Voting will take place on Tuesday (April 23, 2019) for the third phase of the Lok Sabha Election 2019. In the third phase, the political fortunes of candidates in 117 Lok Sabha seats in 16 states will be imprisoned in EVMs. Due to the third phase being the biggest, there is a great stop for other parties including the BJP. Of these 117 seats, the BJP occupies 62 seats. However, in the third phase, all eyes will be on the Rampur Lok Sabha seat of UP, where 'Jubani Jung' has extended all limits of the limits and the EC had to take a tough decision.
A total of 11 candidates are in the fray for the Rampur Lok Sabha seat. Jaya Prada, a famous actress on the BJP ticket, became a politician. SP's senior leader Azam Khan is in the fray for the SP-BSP-RLD combine. Four independents are also contesting from here. However, the main fight is between Jaya Prada of BJP and Azam Khan of SP.
There are many Lok Sabha seats in Uttar Pradesh where their role is important because of the high number of Muslim population. Rampur seat of western Uttar Pradesh comes in these Muslim majority areas. Rampur has more than 50 percent Muslim voters. This is probably the reason why 8 of the 11 candidates who filed for the Lok Sabha from here are Muslims. BJP's Nepal Singh had won from Rampur in the 2014 Lok Sabha elections.There is a history from UP in the 2014 Lok Sabha elections. 2014, was the first such Lok Sabha election in history, in which no single Muslim MP from UP had reached the Lok Sabha.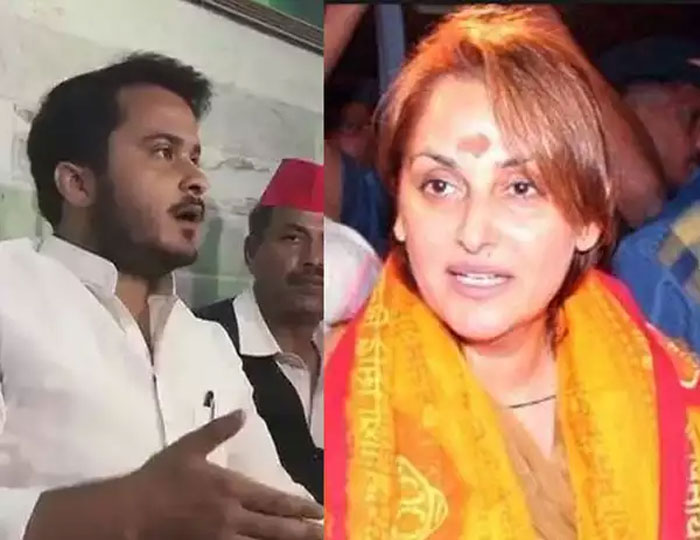 War of indecency in Rampur..!!
The eyes of everyone are at Rampur Lok Sabha seat hinged on as there is a war of indignation here. At present, SP leader Azam Khan is looking forward to the most. Khan, who has been in discussion for the controversial statements and comments, made a solemn statement about his major rival BJP candidate Jaya Prada, that he had issued notice to him from the Election Commission to the Women's Commission.
The EC had also banned Azam Khan's misbehavior and his obscene statements made on Jaya Prada, just before the second phase, Azam had not banned him from campaigning for 72 hours. In this case, 10 cases have been registered against Azam Khan at different places including Shahbad Police Station of Rampur. In addition to political circles, there has been objection to Azam Khan's statement from Bollywood and other areas. Regardless of whether Azam's mistake or forgiveness is far away, he is not ready to admit that he has made any objectionable remark. Azam Khan is contesting for the Lok Sabha elections for the first time from Rampur.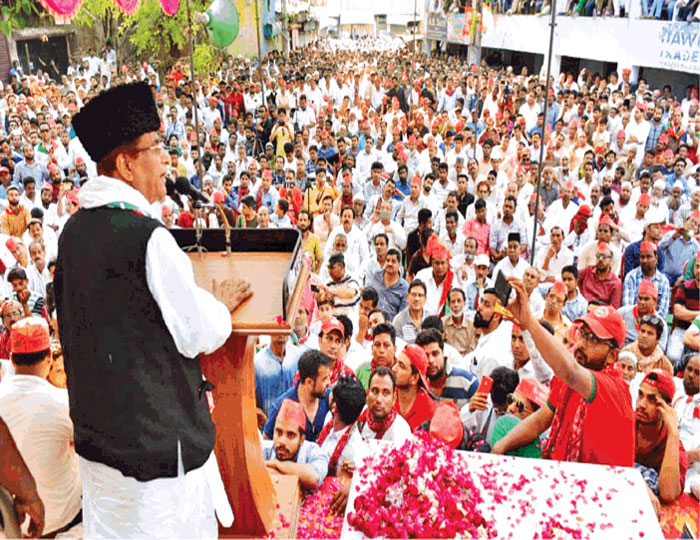 His son's controversial speech after Azam .
After Azam Khan, now his son Abdullah Azam Khan has made objectionable comments against Jaya Prada. Abdulla Azam Khan is the MLA from Rampur. He called BJP candidate Jaya Prada 'Anarkali' on an election rally Sunday. He was addressing an election rally in Pan Deriba, Rampur. When Abdullah made this objectionable comment from the forum, his father Azam Khan was also present on the stage.
Abdullah said, "We need Ali and Bajrang Bali also, but we do not want 'anarkali'." It may be noted that just before the second phase of the incidents like Ali and Bajrang Bali, the Election Commission of UP justified UP Chief Minister Yogi Adityanath, BSP supremo Mayawati And BJP leader Maneka Gandhi had also banned for two-three days for campaigning.
The perfect opportunity to take revenge from Azam Khan.
Jaya Prada has also been a Member of Parliament from Rampur on SP ticket. Azam Khan has played an important role in making Jaya Prada MP from Rampur. However, very soon there was a sharp rise between the two. While staying in Jaya Prada's SP, Azam Khan has often made vulgar and unlimited comments against her. Jaya Prada also raised objections to the senior leaders of the party regarding these comments, but Azam Khan could not control the reins.
After Jaya came to the BJP, Jubani Jung has got sharpened between the two leaders. In such a case, during the third phase of elections for Jaya Prada, the right opportunity to take revenge from Azam Khan is politically correct. Rampur is the stronghold of Azam Khan, thus defeating them from here will be a big challenge for Jaya Prada.
Congress candidate get Nawab family's support.
Nawab family in Rampur has good influence in politics. Leaving the first Lok Sabha election on Rampur seat, the people of Nawab's family have been contesting Lok Sabha elections from here on Congress ticket. The people of Nawab's family have lived here nine times. This is the first Lok Sabha election in which the Nawab Khanadhan is not directly in the electoral fray.
However, Congress candidate Sanjay Kapoor has been supported by him. Sanjay Kapoor is also the National Secretary of Congress. He has also been a MLA from here twice. Due to Sanjay Kapoor, political Jung of Rampur has become interesting.